Volume 1, November 2016
The Panty Tree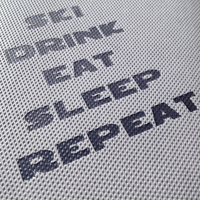 Welcome to FACET SKI Co.
Ski, Drink, Eat, Sleep….REPEAT!!!! Can you think of a better way to Live, Love and Laugh? We can't!
That's why we do what we do and we're kicking off the 2016/2017 season with a new vigor, new attitude, new look and a whole lot of AWESOME!
During the offseason we've been grinding away, hard at work developing our new website www.facetskis.com, our new blog/newsletter The Panty Tree, and of course most importantly, the 2016/2017 line of Facet Skis, including some custom designs that we're most excited to share with you.
We took a long look at the original website and decided that we just weren't getting the right message across. The new design is significantly more user friendly, brighter, and tells a great story of who we are and the adventure we want you to join us on.
Part of that adventure start right here with the Panty Tree. In the mountains the Panty Tree is an institution of folk legends and lore and is always a topic of conversation. In keeping with that tradition, the Facet Panty Tree will keep you up to date with what's going on in the action sports world including Facet Ski Co. events, adventures, and general shenanigans. So make sure you join the adventure, by signing up for the mailing list and checking back in to the website often.
What would a ski company be without some epically awesome skis? Last year we introduced you to the Prosector. Rode on and loved by many, slightly modified, the Prospector is back. A sharp new graphic holds together a redesigned core to bring you more stability and strength while maintaining that fun loving POP! We're also happy to introduce this years BIG Mountain Powder ski, the DOZER. While last seasons winter didn't drop the fabled portions of snow that the mountains West of the Mississippi are known for, we were able to find a few days to test the DOZER and if we may say so ourself, you won't be disappointed. We are also introducing the first of our two park skis, the Pork Chop. Packed and stuffed with energy, intelligently responsive and light, this bamboo cored skis will put a little spring in your park step.
As the adventure continues make sure you sign up for the newsletter and check the blog posts on the website and social media outlets. To follow the adventure, follow @facetskis on Instagram and Twitter and join our Facebook page Facet Ski Co. You can also check out videos on Vimeo, YouTube or in the Panty Tree section of the new website.
Share your Adventure with us. As much as we want to share with you, we thrive on the enthusiasm of our community. Share with us your pictures, videos and tales of your adventures, especially your Facet Adventures.
Winter is here, Realize Adventure!
Tips Up!
The Facet Ski Co.